IMPORTANT: The U.S. Sentencing Commission voted on August 24th to make the ZPO adjustment retroactive.
This means nearly 7,300 "incarcerated individuals could be eligible for reduced sentences made effective beginning on February 1, 2024"
New! ZERO POINT OFFENDER INFOGRAPHIC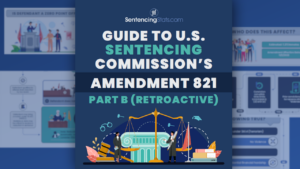 To make the zero point offender amendment easy to understand, we designed this simple to follow infographic. View the Zero Point Offender Infographic here.
ZERO POINT OFFENDER BACKGROUND
The Zero Point Offender reduction is actually Part A of a larger USSC amendment, Amendment 821 at §1b1.10. The above video gives you a clear background of Amendment 821 in less than two minutes.
While it may sound like the name of an 80s punk rock band, Zero Point Offender in fact marks a major sea change in Federal Sentencing guidelines that grants defendants with zero criminal history points a very real opportunity to reduce their sentences. ZeroPointOffender.com was created by SentencingStats.com, the leader in Federal Sentencing analytics with the goals of educating defendants and their counsel, provide free assessment tools and opportunities to create downward adjustments to their sentences, quickly and affordably. Notably the changes to the guidelines apply to existing prisoners, granting this opportunity for sentence reduction to at least 7,000 Federal inmates across the country.
The U.S. Sentencing Commission recently released amendments to the sentencing guidelines detailing potential amendments to federal sentencing guidelines. Under proposed USSG 5C1.1, a non-custodial sentence is considered generally appropriate for a Zero Point Offender who falls in Zone A or Zone B of the Federal Sentencing Table. The Commission is proposing relatively modest changes, the most significant of which address certain drug trafficking offenses, immigration violations, and firearms-related crimes. If approved, the amendments would take effect on November 1, 2023. Under this scenario, a defendant with zero criminal history points will receive a two level decrease to their offense level. There are exceptions such as the defendant must not have used violence or threats of violence, was not charged for a sex crime, did not cause substantial financial harm, did not use a firearm, did not violate a victim's civil rights, and /or was not involved in a hate crime.
Drug Offense Changes: Higher Penalties for Traffickers, Lower Impact for Non-Violent Offenders
The Commission proposes slightly higher penalties for high-level drug traffickers, including those who act as importers, brokers, or financiers of major trafficking operations. However, sentences would decrease for lower-level, non-violent drug offenders. For example, those found in possession of small amounts of drugs for personal use may face shorter sentences and less confinement. Judges would have more flexibility to depart from guidelines in such cases.
According to advocacy groups, the proposed changes reflect the fact that lengthy sentences for non-violent drug offenders have had little impact on substance abuse rates and government resources are better spent on treatment. However, some lawmakers argue the changes do not go far enough and could incentivize illegal drug activity. The guidelines around drug sentences have been frequently debated, indicating they may face opposition before approval.
Immigration and Firearms: Stricter Guidelines for Repeat Offenses and Aggravating Factors
Harsher penalties are proposed for those who repeatedly illegally enter the U.S. after being deported. Offense levels would increase with each illegal re-entry, up to a maximum of level 24. The guidelines suggest that conditions of confinement be imposed even for first-time re-entry offenses.
The Commission also recommends higher offense levels for convicted felons found illegally possessing firearms, especially those with a history of violent offenses. Sentences would increase if the firearm was stolen or had an altered serial number, or if multiple firearms were involved. The guideline ranges could nearly double for offenders with prior felony convictions for crimes of violence.
Changes Still Face Final Review and Congressional Approval
The Commission has scheduled public hearings on the proposed amendments for January 2023. The public will have the opportunity to comment and suggest further changes to the guidelines. Following a review of all testimony and written comments, the Commission will vote on whether to officially promulgate the final amendments at their plenary session in April.
Congress has 180 days to review any new guidelines before they can take effect. Lawmakers can vote to increase, decrease or block any of the proposed changes. Historically, however, most amendments proceed as suggested by the Commission, indicating the modest reforms outlined in their latest report have a strong chance of being enacted, at least in part, by November 1, 2023.
Overall, the U.S. Sentencing Commission aims to promote consistency and fairness in the federal criminal justice system through data-driven policy reform. The latest proposed amendments continue this effort while balancing concerns over both excessively harsh and overly lenient sentences for certain types of offenses.
What are the steps to determine Zero Point Offender qualifications?
Confirm you have zero criminal history points

Ensure there are no disqualifies (see list of ZPO disqualifiers here)
Determine if application of the Guideline change reduces defendant's guidelines sentencing range (see Guideline §1B1.10)
FREE ZERO POINT OFFENDER ASSESSMENT TOOL
In addition to first time offenders, over 7,000 Federal inmates qualify for Zero Point Offender downward adjustment of their sentence, under the proposed new changes. We are offering a 100% free assessment tool that will tell you if you likely qualify in less than 60 seconds.
The sentencingstats.com team are leading experts in Zero point offender downward adjustments. highly recommend them.
ALAN ELLIS, Author, Federal Sentencing Guidebook